Wines made by hand that speak to the heart and mind…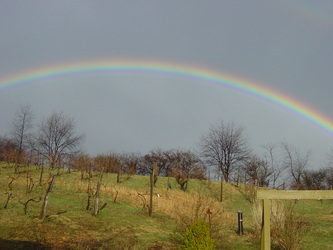 We are a small winery in the mountains of western Maryland emphasizing wines made from grapes that reflect their soil and site, mostly dry in style and meant to pair with good food. The winery is located near major mid-Atlantic tourism destinations: Maryland's Deep Creek Lake and the scenic Laurel Highlands of Pennsylvania. In our own vineyards, we use sustainable farming practices for "natural wine-making" — relying on wild yeast fermentation and no filtering. Many of our bottlings contain no sulfites. We make similarly low-tech wines from grapes grown in two other Maryland climate zones: classic Pinot Noir from a limestone ridge-top near Cumberland and traditional Italian varietals from the quartz-rich soils of Carroll County. We also regularly produce Pinot Noir grown on the famous Niagara Escarpment in New York. In fact, we're one of the few Mid-Atlantic Pinot Noir specialists.

Our wines are sold in the best shops (and in a few fine restaurants) in Maryland, the District of Columbia, and some vintages, in New York City and Chicago.

When visiting Maryland's popular mountain vacation-land, husband and wife team Paul Roberts and Nadine Grabania invite you to plan a stop at their boutique winery. Deep Creek Cellars is unusual among Eastern U.S. wineries in that it is not primarily an entertainment venue; rather than sugary confections, our focus is crafting fine wines for adventurous and worldly palates.

We like to say that we make wine like the rest of the world drinks.

---
DCC's Maryland-grown wines on tap at Parts & Labor
Deep Creek wines are featured in Baltimore at Parts & Labor, run by Woodberry Kitchen owners, in the Remington section of Baltimore. The unique restaurant and butcher shop in a former auto repair facility offers several wines on tap, with Deep Creek's dry Riesling being their go-to East Coast white.

---
Winery News — DCC in NYC!

Deep Creek Wines in the Big Apple!
Since 2012, our wines are represented in New York City by
Jenny & Francois Selections
, a "natural wine" distributor of mostly French, Spanish, and Italian wines (we being one of only five US producers in the J&F portfolio). Jenny Lefcourt and François Ecot were fundamental to New York's development as arguably the world's top city for "farm-to-table" cuisine matched to great wines to accompany them.
The highlight of Natural Winemakers Week that Jenny & François host in late Winter every year is the portfolio tasting. The 2013 event featured some 300 wines from producers determined to protect the Earth through the livings we make. For us personally, perhaps an equal experience was the fried chicken at Buttermilk Channel in Brooklyn, where Deep Creek's Frontenac Nouveau sat atop the red-wine list.
"Some thought it was from Beaujolais, others thought the strong backbone of earth [was more like Burgundy]. We were shocked to discover the wine was from the East Coast of the US. There is quite clearly nothing else like this wine from this part of the world."
To learn more about J&F Selections, please visit our producer page on their website. This page also contains a video made at the winery by our good friend, filmmaker Marcarthur Baralla.
While marketing our wines in New York City in 2012 and 2013, we were pleased to meet with new and old friends who share our concerns about protecting our water resources from the impacts of industrial shale gas development
(fracking)
. This Brooklyn mural pretty much says it all.
We Love New York!
---