Planning an Autumn Getaway in
Mountain Maryland?

We're Open Thursday, Friday, Saturday until November 25! (Please call ahead for reservations for groups of 5 or more!)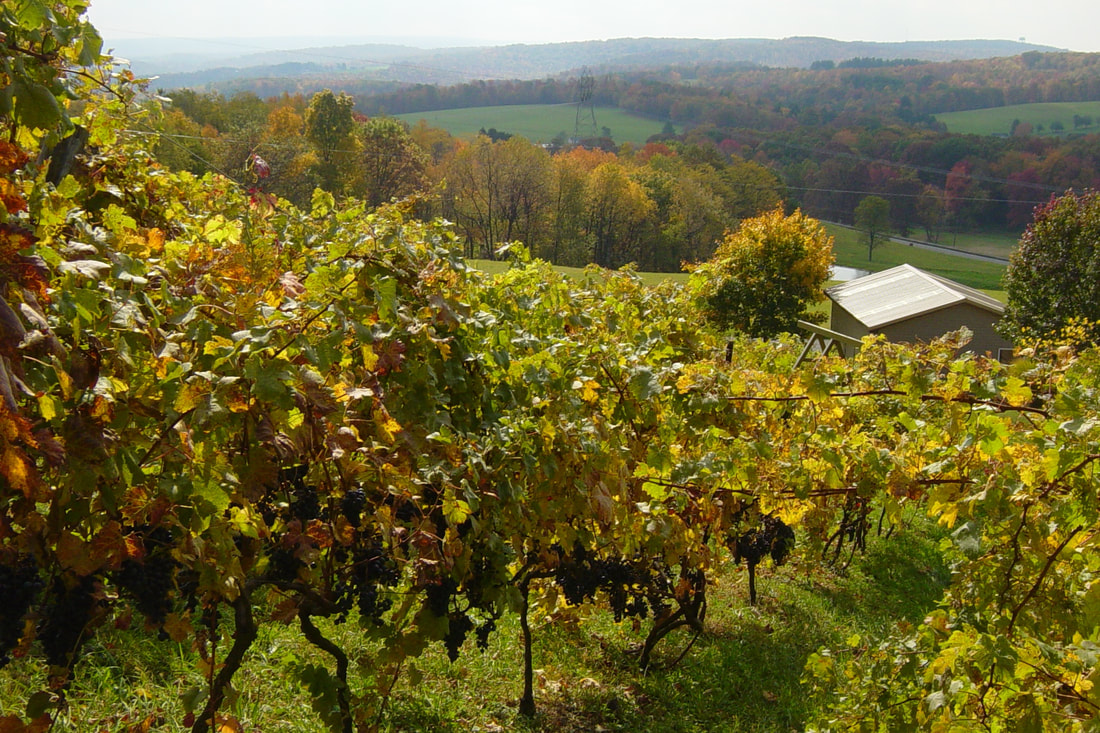 And, Just Arrived!
More Novelties at Deep Creek's Most Unusual Gift Shop
No, NOT from Paul Manafort's
Emergency Garage Sale!
But yes, Russian — Soviet-era, actually, though never used — from the winemaker's collection of vintage enamel cookware for sale in "Cast-Iron Corner" in the winery tasting room gift shop. Besides unique Russian ovens, it's all Le Creuset, Descoware, Dru Holland, and other designer European brands — all at bargain prices.
Deep Creek Cellars featured in "Lancaster Farming"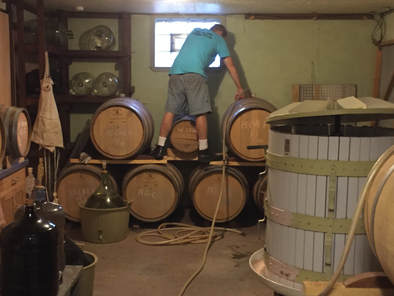 Deep Creek Cellars had the pleasure of welcoming Teresa McMinn, Maryland Correspondent for Lancaster Farming, this spring for an interview about our wines and vineyard. The story,
"A Taste of Napa in Western Maryland"
was featured in the Lancaster Farming's June edition.
The very informative story shares a thorough accounting of Deep Creek Cellars' origins, while bringing readers up-to-date on some of the challenges and achievements faced by a small, family-run winery in Appalachia. Thanks very much, Teresa, for visiting and for helping to tell the story of natural wine-making in Maryland!
---
Wines made by hand that speak to the heart and mind…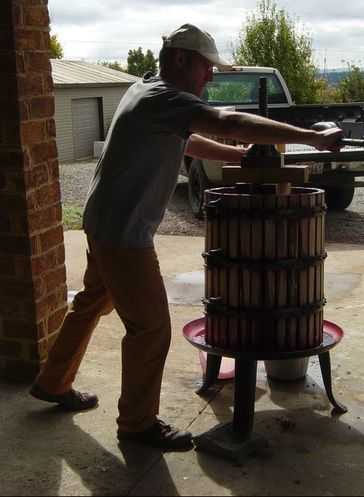 We are a small winery in the mountains of western Maryland emphasizing wines made from grapes that reflect their soil and site, mostly dry in style and meant to pair with good food. The winery is located near major mid-Atlantic tourism destinations: Maryland's Deep Creek Lake and the scenic Laurel Highlands of Pennsylvania. In our own vineyards, we use sustainable farming practices for "natural wine-making" — relying on wild yeast fermentation and no filtering. Many of our bottlings contain no sulfites. We make similarly low-tech wines from grapes grown in other Maryland climate zones: classic red and white Pinot and Cabernet Franc from a limestone ridge-top near Cumberland, unique native American Norton from quartz-rich soils in Carroll County, and spectacular dry Riesling from clay-over-limestone in Howard County. A little-known facts is that we are emerging as one of the few Mid-Atlantic Pinot Noir specialists.

Our wines are sold in the best shops (and in a few fine restaurants) in Maryland, the District of Columbia, and in some vintages, in New York City and Chicago.

When visiting Maryland's popular mountain vacation-land, husband and wife team Paul Roberts and Nadine Grabania invite you to plan a stop at their boutique winery. Deep Creek Cellars is unusual among Eastern U.S. wineries in that it is not primarily an entertainment venue; rather than soft-rock, chili cook-offs, and sugary wine confections, our focus is crafting fine wines for adventurous and worldly palates. We like to say: we make wine like most of the world drinks.


---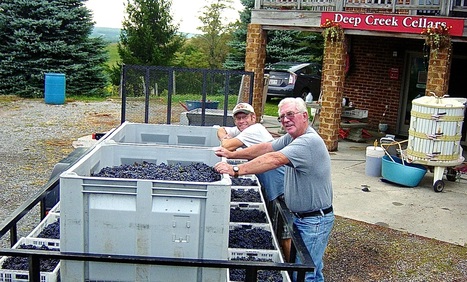 SHOUTING
From our Mountain-Top

With delivery of 2016's crop of Pinot Noir from Bear Hill Vineyard in Oldtown, Allegany County (that's vineyard owner Mike Hutton, front, with Deep Creek Vigneron Paul Roberts), we finally feel solid in shouting: MARYLAND HAS A GREAT NEW PLACE WHERE GRAPES ARE GROWN! (or, to use the popular French synonym, a great new 'TERROIR'!)

Mike and his wife Barbara suffered much of the last eight years to produce harvests from this blessed, west-facing location on decomposed sea shells and shale at 950 feet elevation near Cumberland. Freak late frosts and hail storms wiped out crops in three of the first five years! So, we never felt safe at Deep Creek Cellars boasting — based on wines made the other two years — about the site's promise. Our 2010 and 2012 Pinot Noir were among the best ever in the Eastern U.S. But now, with the 2016 Pinot safely fermenting in our Garrett County cellars, we have five vintages on which to stake our claim: from cooler-climate limestone terroir, yielding balanced, velvety, and subtle Pinot Noir — not-West Coast, with genuine Burgundian character — we craft astonishing wines near Deep Creek Lake tourism in the Maryland mountains.

Come today, and taste: the Cabernet Franc (2015 Watershed Red) is equally impressive as the Pinot, and also originates from this magnificent vineyard, as do Pinot Blanc, Pinot Gris, and Dolcetto. Again, you probably don't know because we had to wait to exclaim:
GREAT WINE FLOWS FROM THE MOUNTAINS! TASTING NOW — 2015 BEAR HILL PINOT NOIR
​
---