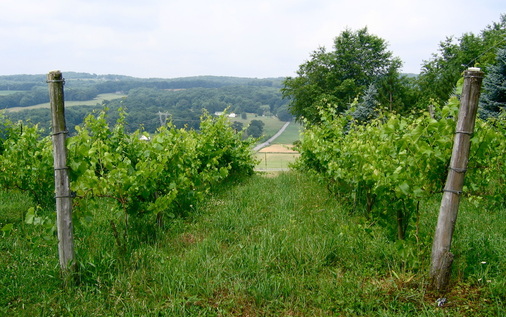 DEEP CREEK CELLARS
177 Frazee
Ridge
Road
Friendsville, Maryland 21531
301.746.4349
deepwine@deepcreekcellars.com
HOURS: Thursday to Saturday, 11 to 6. Other times by appointment.
WINTER HOURS: by appointment only.Appointments ALWAYS needed for all groups of 6 or more. Please call ahead.Charges apply for group tastings and tours. Also, please call for Holiday or special Winter hours. We cannot guarantee tour availability on Holiday Saturdays.
DEEP CREEK CELLARS HAS AN OLD-SCHOOL RESPECT FOR PEOPLES' PRIVACY, INCLUDING OUR OWN — SO WE'RE NOT VERY ACTIVE ON SOCIAL MEDIA SITES. BUT, YOUR COMMENTS AND EXPERIENCES WITH OUR WINERY AND WINES ARE ALWAYS WELCOME, AND DIRECT DISCUSSION WITH THE WINEMAKER IS REMARKABLY EASY. JUST CALL OR EMAIL!
---
GPS users: Please use full street address including "Ridge" in Frazee Ridge Road.

Need to know more about visiting the winery?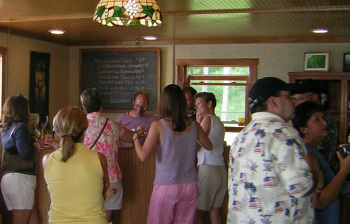 More about our Hours of Operation
Simply put, Thursdays, Fridays and Saturdays (in season) are the only days we have general open admission, from 11-6.
We are a boutique-scale winery and vineyard with a very small staff. So that we can guarantee that your group enjoys our full attention, we encourage groups of six or more to come any other day but Saturday, by scheduled appointment. If that's the only day your group can come, we will do our best to accommodate you with a visit either early or late in the day.
Mondays through Fridays, we are happy to arrange tastings and tours for groups of any size. Please call us to make an appointment. Often, if you are calling about the current week, giving us a "window" of time in which to expect you is all we need (for example: "Wednesday afternoon"). We'll do our best to be as flexible as possible.
Charges apply for group tastings and tours.
We encourage you to call or
write
for info about hours in Winter or on Holidays, or if you prefer to be in touch directly regarding questions.
---
Does Deep Creek Cellars host weddings?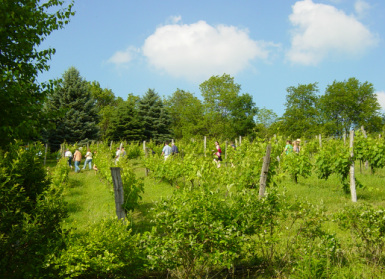 Sorry! Being small, and family-run, we like to keep it simple and focus on our wine-making and work in the vineyard and garden. Though our setting would make for some memorable, scenic events, we lack elaborate restroom, parking and foul-weather facilities to handle large events. We have, however, accommodated small bachelorette parties and other mini-events, with advance planning. A creative soul might talk us into a very intimate ceremony someday, but we do not pursue such opportunities.
If you'd like to plan a wedding in Maryland's mountains, we recommend the
Deer Park Inn
or
Chanteclaire Farm
for a range of settings from elegant to country. Check out
Deer Park Inn's
webpage and you'll see some delicious-looking enticements to inspire your wedding plans.
VisionQuest Studios
will capture your wedding or event photos with a creative flair that might look even better than how you remember it.
---
Is Deep Creek Cellars pet-friendly?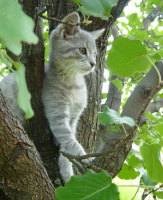 Yes, we like dogs! Dogs are welcome, if they are kept on a leash at all times, please, if they don't have claws that will scratch our hickory floor, and lastly, if all other guests have no objections to their presence.

Because we have pet cats at the winery, calling ahead to let us know that you are bringing a dog is greatly appreciated. We would find it highly refreshing and entertaining if you want to bring your cat.

http://www.latimes.com/nation/nationnow/la-na-nn-cat-cafe-new-york-20140423-story.html
---